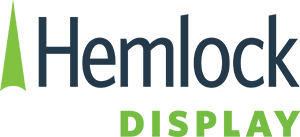 PrismTech Graphics Rebrands as Hemlock Display Solutions
August 1st, 2023 — Hemlock Printers and the PDI Group, two recognized leaders in the Canadian printing industry, are pleased to announce the rebranding of PrismTech Graphics as Hemlock Display Solutions. The new company name sets the stage for an exciting new chapter for the organization, signifying its close alignment with the Hemlock organization in western Canada.
As Hemlock Display Solutions, the company will leverage its expertise in cutting-edge large format print solutions building on the success of PrismTech Graphics. With a fresh identity and an unwavering commitment to excellence, the company aims to strengthen its position as a market leader within the print industry.
Hemlock President, Richard Kouwenhoven, expressed his enthusiasm for this step, stating, "The rebranding to Hemlock Display Solutions represents the progress we have made over the past three years since our acquisition of PrismTech Graphics in partnership with the PDI Group. We have closely aligned processes with Hemlock Printers, integrated our sales and service teams, and look forward to the continued expansion of our wide format offering to regional and national customers in the months and years ahead."
PDI President, Jamie Barbieri, added "The new branding initiative is in keeping with our strategic focus on growing our national footprint in the point of purchase (POP) and point of sale (POS) marketing segment."
The official transition to Hemlock Display Solutions is August 1, 2023, and all future business operations will be conducted under the new name. Hemlock Display is committed to making this brand transition seamless for our clients, partners, and stakeholders alike.
Hemlock Display Solutions
Hemlock Display Solutions is a western Canadian leader in large format digital and screen-printing services and is proud to serve leading brands across a wide range of business sectors. From our 35,000 square foot facility in Burnaby, BC, our digital UV, latex and screen-printing capabilities provide exceptional results for a wide variety of products and applications. Hemlock Display is an equal partnership of Burnaby, BC-based Hemlock Printers and Kirkland, QC-based PDI Group, two of Canada's largest and most recognized printing leaders. hemlockdisplay.com
For more information or media inquiries, please contact:
Colleen Moyles, Marketing Manager
cmoyles@hemlock.com 604-439-5088