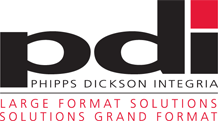 The PDI Group expands its Large Format printing stake with strategic merger plans
MONTREAL, APRIL 26TH, 2016 — The PDI Group announced today that it has entered into an exclusive agreement, through its wholly owned subsidiary Trans-Optique Inc., to merge its large format printing operations with those of Imagerie DB Inc. and LVP.ca Inc. to create one of the industry's most important large format printing companies.
The three companies will start pooling their collective resources pursuant to a commercial agreement preparing an early summer move into a new facility that will unite them under one roof and a single and unique identity called PDI Large Format Solutions Inc.
PDI Group COO, Gaetano DiTrapani, and President, Jamie Barbieri, have confirmed that this recent endeavour is in keeping with PDI's strategic plans for growth and diversification within their offer of integrated print solutions. "The merger of our three companies will create an amazing synergy where our creative approach, our production capacity and our sales expertise will allow us to bring to market a greater depth and integration of capabilities that will define us as undeniable leaders in this domain".
Imagerie DB President, Benoit Paquette, and Vice President Denis Paquette, have further affirmed that the consolidation of the three companies will result in an unmatched industry offering with a robust production platform and leading edge technology that will provide clients with the widest range of large format services in the province.
Francis Tellier, President of LVP.ca Inc., added "LVP's proven strength and experience in creative conceptualizations and consultative approach to customer service will enable customers to utilize truly unique sign and display capabilities to empower their brands and communication strategies."



PDI Inc. is the largest independent sheet-fed printing company in Quebec, providing complete integrated print solutions, pre-media, offset, digital and large format print production, web-to-print, as well as fulfillment, warehousing and direct mail services to clients in Quebec, across the rest of Canada and in the United States.
Imagerie DB Inc. is a dynamic company within the large format digital printing market. For over fourteen years, its large format service has surpassed the competition through the acquisition of new equipment in order to expand and diversify its product line. With an extensive background in pre-press, Imagerie DB offers top quality printing, supported by a professional and personalized service along with competitive pricing.
LVP.ca Inc. is a large format digital print provider with a multifaceted approach, keeping three objectives in mind: to make a great impression, to give life to surfaces and to maximize the visibility of its clients. With over 20 years of success under its belt, LVP offers a complete service from design to installation, including expert advice, in order to focus on optimizing the clients' investments in large format digital print.
Mr. Jamie Barbieri
President, PDI Inc.
18103 Trans-Canada Hwy
Kirkland, QC H9J 3Z4
514-695-13333
www.groupepdi.com
Mr. Francis Tellier
President, LVP.ca Inc
505 Fernand-Poitras St., Unit 105
Terrebonne, QC J6Y 1Y5
450-628-6060
www.lvp.ca
Mr. Benoit Paquette, President
Mr. Denis Paquette, Vice-President
Imagerie DB Inc
750 Curé-Boivin Blvd.
Boisbriand, QC J7G 2A7
450-434-7374
www.imageriedb.com